Blessed Bartolo Longo was a committed Satanist who completely changed his life to one of active charity and Marian devotion. Bartolo was born in 1841 to Bartolomeo and Antonina Longo at the town of Latiano, in southern Italy. Bartolomeo was a physician and he and Antonina were devout Catholics who prayed a family rosary daily. As a boy, Bartolo was exposed to the best of culture, and was especially inclined toward music and writing. Antonina was devoted to personally visiting and helping the poor, and taught her son to do the same. When his father died in 1851, Bartolo gradually began to drift from his faith. He studied law from a private tutor, followed by formal training at the University of Naples. This university was a hub for anti-Catholic pagan activity, and Bartolo became prey to this movement. He abandoned his faith and was known to mock Christianity in public places. He engaged in such dangerous occult practices as seances, wizardry, and sooth-saying; as well as the orgies necessary for inclusion in his "spiritualist" way of life. Eventually, he was "ordained" a satanic priest. Sadly, he was successful in drawing numerous Catholic Christians away from their faith.
As a result of his participation in neo-pagan practices, Bartolo began to suffer, physically and mentally. He became plagued by nervousness, severe depression, paranoia, and confusion. He was tormented by frightening diabolical visions and his health continued to spiral downward until he had a nervous breakdown. In desperation, he heard the voice of his deceased father begging him repeatedly to return to God. Bartolo turned to Professor Vincenzo Pepe, a longtime friend, for help. Pepe convinced him to turn away from Satan, and a long road of conversion had begun. Bartolo was then introduced to a learned Dominican priest, who mentored and tutored him in the faith, especially utilizing the teachings of St. Thomas Aquinas. After a time of study and prayer, Bartolo returned to the Sacraments. He even boldly appeared at a séance and a number of other occult gatherings, declaring his new-found faith and renouncing his former practices.
One day as he was visiting Pompeii, Bartolo was dismayed at the atmosphere of depravity, poverty, and religious ignorance. He had a mystical experience, where he dropped to his knees and promised the Virgin Mary that he would not leave the area until he had successfully spread devotion to the rosary. He ceased his pursuit of a legal profession and in 1871 became a Third Order (lay) Dominican, taking the name Brother Rosario. At Pompeii, he joined a charity group, and worked with a widow named Countess Mariana di Fusco. He went to people's homes in order to teach them about the rosary, and he began a rosary confraternity. He received enough donations in 1873 to refurbish an old neglected chapel, and almost immediately people were reporting miracles and visiting the chapel in large numbers. One notable miracle was the healing of Bartolo's gravely ill mother. Reported miracles numbered over nine hundred by 1885. Bartolo obtained a printing press in 1884, and used it to publish a periodical about the Shrine chapel and the rosary devotion. In 1885, he and Countess Mariana were married. With the support of the Bishop of Nola, a larger, more beautiful church was built, completed in 1891. Ten years later, the shrine was elevated by Pope [St.] Pius X, who named it a pontifical basilica. In the vicinity of the church, Bartolo set out to build a "town of charity". He began housing orphans in 1887, and added children of prisoners in 1892. He built several other buildings for services for the poor. The children were taught in the ways of "work and prayer", and he taught them to use his printing press and other vocational skills. Eventually, the "town of charity" grew to include athletic, hospital, postal, and railroad services. He encouraged people to pray for the dogma of the Virgin Mary's Assumption to be declared, and numerous bishops requested this of the Vatican. This dogma was indeed declared, albeit after Bartolo's death. In 1906, he withdrew from supervising his charitable endeavors, and spent the rest of his life as an ordinary employee. Bartolo died October 5, 1926 at Pompeii at the age of eighty-five. He was buried next to his wife, who had died two years previously, in the crypt of the Basilica of Our Lady of the Most Holy Rosary of Pompeii.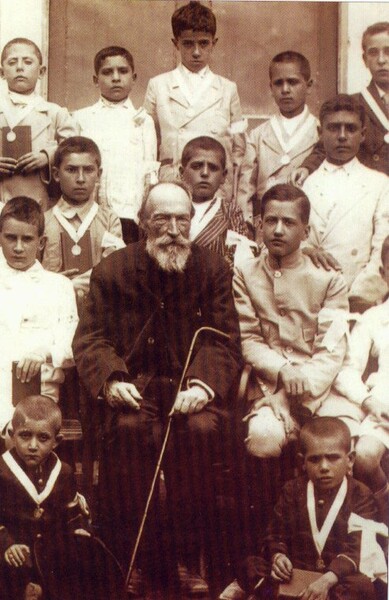 The life of Blessed Bartolo Longo presents one of the most stark examples ever seen of a metanoia, or a complete change of heart. His story is one that can give hope to those who worry about loved ones who have abandoned their faith. At his beatification in 1980, Pope [St.] John Paul II referred to him as the "man of Mary" and "the Apostle of the Rosary". He is also mentioned in John Paul's apostolic letter Rosarium Virginis Mariae. His work went a long way toward restoring hope in Pompeii, a city that had been destroyed eighteen hundred years earlier.